Zealous Star Rewards are HERE!
Sign up to the NEW Zealous Star Rewards and get the full 'Star' treatment!
E
njoy fabulous gifts and rewards by earning points every time you shop, share and connect with us!
HOW IT WORKS
(It's easy, we promise)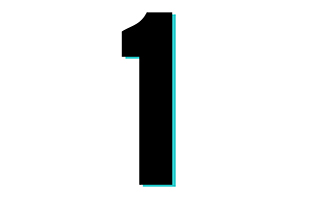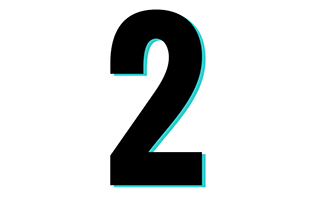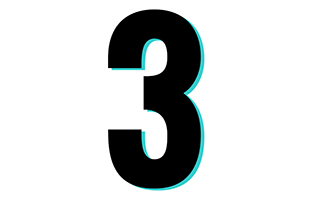 Redeem stars for gifts & discounts!
It's super simple to earn Zealous 'Stars'! As you earn them, you'll unlock NEW gifts, discounts and rewards levels.
SIGN UP FOR REWARDS
= 100 BONUS STARS
PLACE AN ORDER
ROOKIE = 1 STAR PER $1 SPENT
PRO = 2 STARS PER $1 SPENT
ELITE = 3 STARS PER $1 SPENT

REVIEW A PRODUCT
= 100 STARS
*PER REVIEW, PER WEEK 
REFER A FRIEND
= 300 STARS
*ON REFERAL PURCHASES ONLY
HAVE A BIRTHDAY
ROOKIE = 100 BONUS STARS
PRO = 200 BONUS STARS
ELITE = 300 BONUS STARS

SHARE ON SOCIAL MEDIA
= 100 STARS
*PER SHARE, PER MONTH 
FOLLOW ON INSTAGRAM
= 150 STARS
*PER PLATFORM, ONCE ONLY
FOLLOW ON TWITTER
= 150 STARS
*PER PLATFORM, ONCE ONLY
LIKE ON FACEBOOK
= 150 STARS
*PER PLATFORM, ONCE ONLY
HOW TO REDEEM YOUR REWARDS
When you collect stars you'll unlock new rewards in your Rewards Panel. Move up our tiers and achieve more gifts and discount... or better yet, achieve 'Elite Star' Status and receive the full star treatment!
When you are ready to use a reward, add it to the checkout to redeem for discounted products or free gifts!
* Redemption rules apply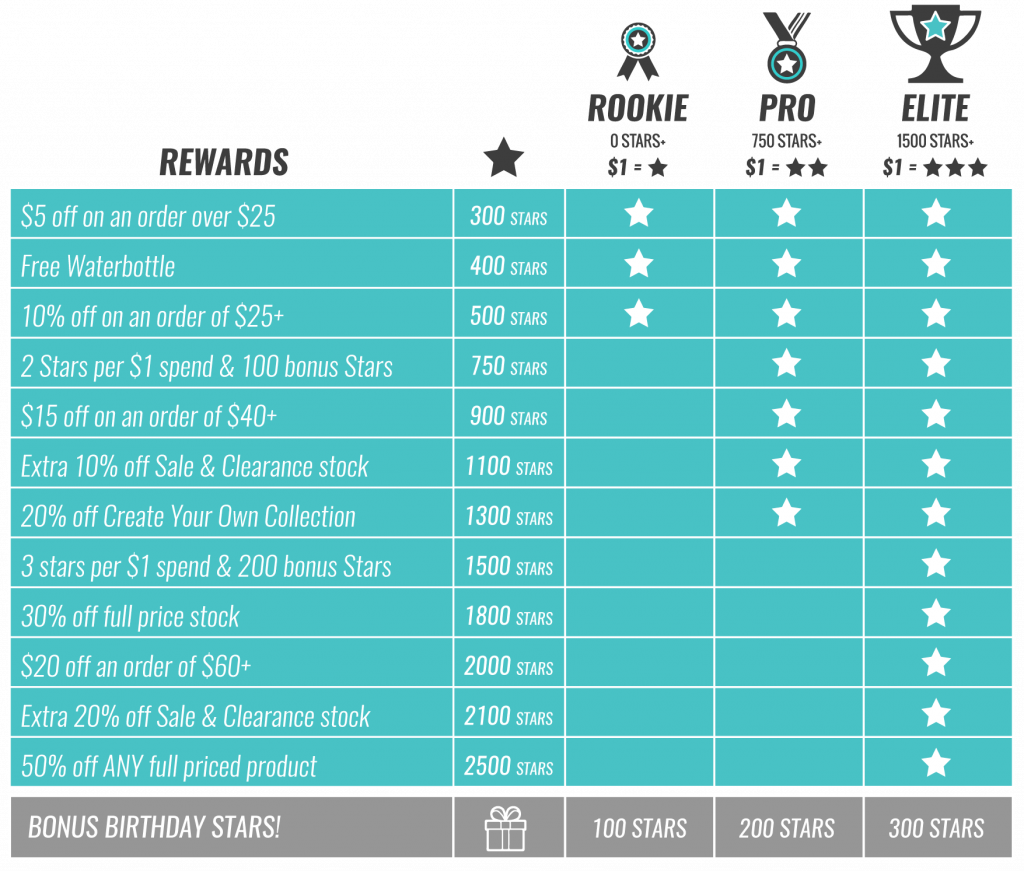 REWARD TERMS & CONDITIONS
If you have existing stars from previous purchases prior to the program launching, your rewards will be in the "all my rewards" section of our rewards panel. 
Program Overview
Zealous Swimwear reserves the right to modify or terminate the Rewards and/or these Terms and Conditions at any time at its discretion and without obligation. Zealous swimwear will provide written notice to the address listed on your Zealous Swimwear account or a notice posted on Zealous Swimwear website should it modify or terminate the Rewards and/or these Terms and Conditions. These Terms and Conditions shall become effective as of the date of registration with Zealous Swimwear or the effective date of the Rewards program, whichever occurs second.
Zealous Star Rewards Accrual
You may accrue Stars by purchasing from Zealous Swimwear shop site only, based on your tier, excluding discounts/promotions, shipping and handling charges, sales tax, restocking fees on refunded items, and purchases with gift cards.
You may accrue stars by inviting friends who make a first purchase from Zealous Swimwear. You accrue 300 stars for each friend who makes a first purchase using the promotion code generated through your referral link.
Stars accrued for purchases, including bonus points, will be reflected in your account as total Stars that may be redeemed when your order ships.
If you return an order for a refund, then any points you earned for that order will be deducted from your account.
Stars accrued under the Rewards program have no cash value.
Stars are non-transferrable and points from multiple accounts cannot be combined.
Star Redemption
You may redeem your accumulated stars for various offers including discounts, free gifts and store credits. Available offers can be seen by logging in to your Star Rewards account and viewing them via the panel (star icon bottom right of screen).
Once redeemed, stars cannot be reinstated into your account.
Star Rewards Expiration
Stars expire after 2 years.
Miscellaneous
There are no membership fees associated with the Zealous Star Rewards.
Zealous Swimwear reserves the right at its sole discretion to revoke any Stars that have been accrued through misuse of the program.
Zealous Swimwear reserves the right at its sole discretion to close a member account.
Stars accumulated under the program are promotional and have no cash value.
If you opt out of the Rewards program then any available stars and offers will be immediately forfeited and you will not be able to recover them.
Zealous Swimwear may, in its sole discretion, alter, limit, or modify the reward rules, regulations, benefits, eligibility for membership, or any other feature of the program (including assigning any of its obligations to customers under the program at any time to another person or entity, without recourse) or may terminate the program any time at its sole discretion, by posting any such changes on the Zealous Swimwear website. YOUR CONTINUED USE OF THE WEBSITE FOLLOWING SUCH CHANGES CONSTITUTES YOUR ACCEPTANCE OF THE CHANGES.
Zealous Swimwear reserves the right to exclude individuals from the program in its sole discretion. Any abuse of the program, failure to follow any terms of the program, membership inactivity for more than 24 months, any misrepresentation or any conduct detrimental to the interests of Zealous Swimwear not otherwise protected by law may subject members to membership revocation and will affect eligibility for further participation in the Program.
Membership is non-transferable and membership purchases must be made by the member.
If your membership is revoked or otherwise cancelled, any points in your account will automatically expire.
Zealous Swimwear reserves the right to make changes to its Web site and these Terms at any time. It is your responsibility to check or review these Terms from time to time to keep informed of any changes.
By joining the Rewards program, you hereby agree to be bound by any such changed Terms.